Discover industries and companies
in Shizuoka
Industries
Many companies have their head offices in Shizuoka.
More and more companies have their bases of operation in Shizuoka,
thanks to the priviledged location.
Industries
Industries
in Shizuoka
Shizuoka is located in a privileged location. It's close to major cities such as Tokyo and Nagoya, and the main Tokaido Highway runs East to West. Thanks to this, many industries have evolved here at Shizuoka and we are called a "Microcosm of Japan" or an "Industrial Department Store".
Shizuoka's GDP ranks 10th in the nation. Manufacturing industries are particularly active, and product shipments rank 4th in Japan.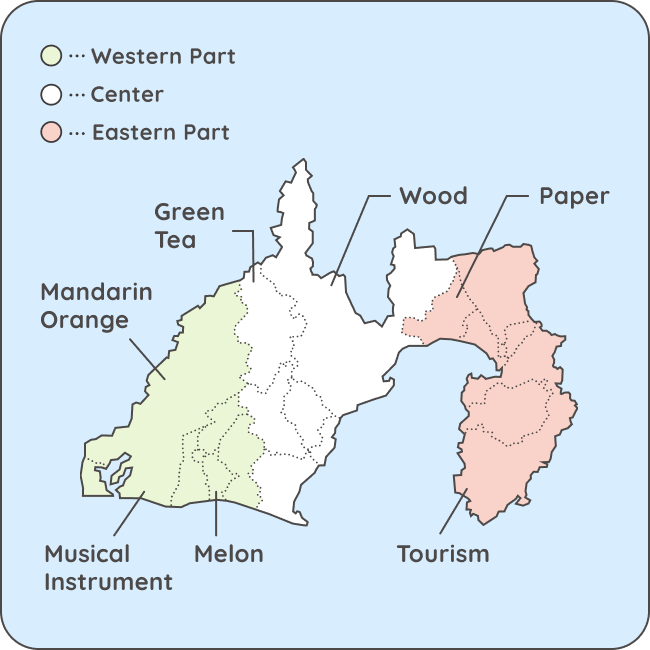 Transportation equipments/parts
Agricultural cultivation
(melon,mandarin orange)
Musical Instrument
Aquaculture
(oysters, seaweed, eels, soft-shelled turtles)
Green tea
Food processing
Canning Industry
(1st Rank of Production in Japan)
Beverage
Furniture, Ornamental Japanese dolls
Transportation Industry
Electronics
Seafood processing
Government Agency
Wood
Hot Spring (Onsen)
Tourism
Medical, health industry
Paper (Shipment amount 1st rank)
Factories that headquartered in the Tokyo metropolitan area
Medical equipment
Paper processed amount
(Shipment amount 1st rank)
pulp
Source: Bank of Japan Overview of Industry and Finance of Shizuoka prefecture.
Global Company
Global Companies in Shizuoka
Many companies in Shizuoka expand their business all over the world, especially in Asia.
693 companies in Shizuoka do their business in Asia, so you will be able to have many business connection with overseas in Shizuoka.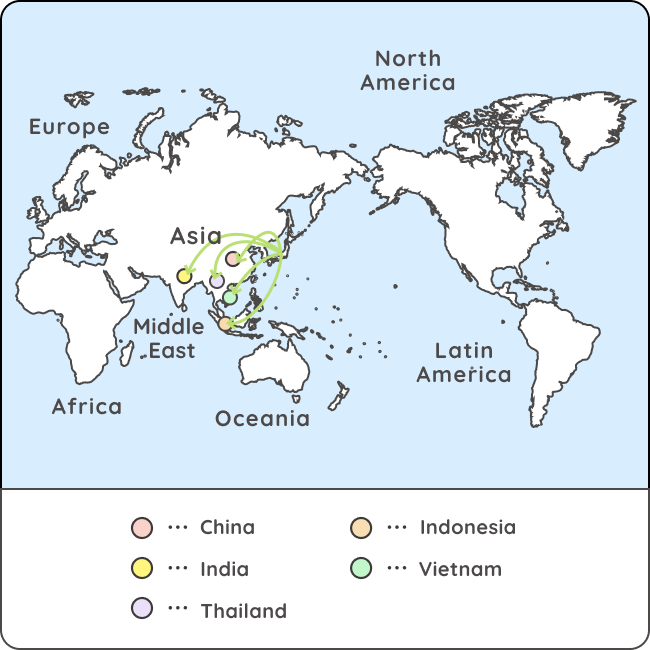 Ranking
Company sales ranking in Shizuoka
Discover the company sales ranking in Shizuoka.
Worldwide well-known companies have their head offices here.
Source: National Corporation List at the date of Nov 5, 2019
Companies
Location
(city)
No.1
SUZUKI MOTOR CORPORATION
Hamamatsu
No.2
Yamaha Motor Co.,Ltd.
Iwata
No.3
Yamaha Corporation
Hamamatsu
No.4
JATCO Ltd
Fuji
No.5
Shizuoka Bank Ltd.
Shizuoka
No.6
Maxvalu Tokai Co.,Ltd.
Hamamatsu
No.7
TOKAI Holdings Corporation
Shizuoka
No.8
Yutaka Giken Co., Ltd.
Hamamatsu
No.9
F.C.C. Co.,Ltd.
Hamamatsu
No.10
Primearth EV Energy Co., Ltd.
Kosai
No.11
Hamamatsu Photonics K.K.
Hamamatsu
No.12
SHIZUOKA GAS Co.,Ltd.
Shizuoka
No.13
Suruga bank Ltd.
Numazu
No.14
Suzuyo Shoji Co., Ltd.
Shizuoka
No.15
Suzuyo & Co., Ltd.
Shizuoka
No.16
Cataler Corporation
Kakegawa
No.17
HAMAKYOREX CO.,LTD.
Hamamatsu
No.18
NIHON PLAST CO., LTD.
Fujinomiya
No.19
FUJI KIKO CO., Ltd.
Kosai
No.20
ITEC CORPORATION
Shizuoka