Why Shizuoka?
Why students choose Shizuoka?
Learn why International Students choose Shizuoka!
Find out more about Shizuoka, where both people and climate are warm,
and enjoy your life as an International
Student here.
About Shizuoka
Things to know about Shizuoka
Shizuoka is located in the center of Japan.
It is blessed with abundant nature including the deepest bay in Japan: Suruga bay and the tallest mountain in Japan: Mt. Fuji which is also registered as a World Cultural Heritage.
The location is also convenient for transportation, with the Shinkansen and the Tomei Expressway.
It is attractive in many aspects such as history, culture, and art.
Reason
Why students choose Shizuoka?
The great view of Mt.Fuji,
a world heritage.
Mt. Fuji is the highest mountain in Japan and was registered as a world cultural heritage in 2013. Though Mt Fuji is located over Shizuoka and Yamanashi, you can only enjoy its great view with the ocean from Shizuoka side. Let's enjoy the beautiful Mt. Fuji view all the seasons.
Many Universities and
specialties to choose from
You can choose the field you want to study from a wide range of subjects from medicine, science, engineering, and nursing to sociology, law, and culture.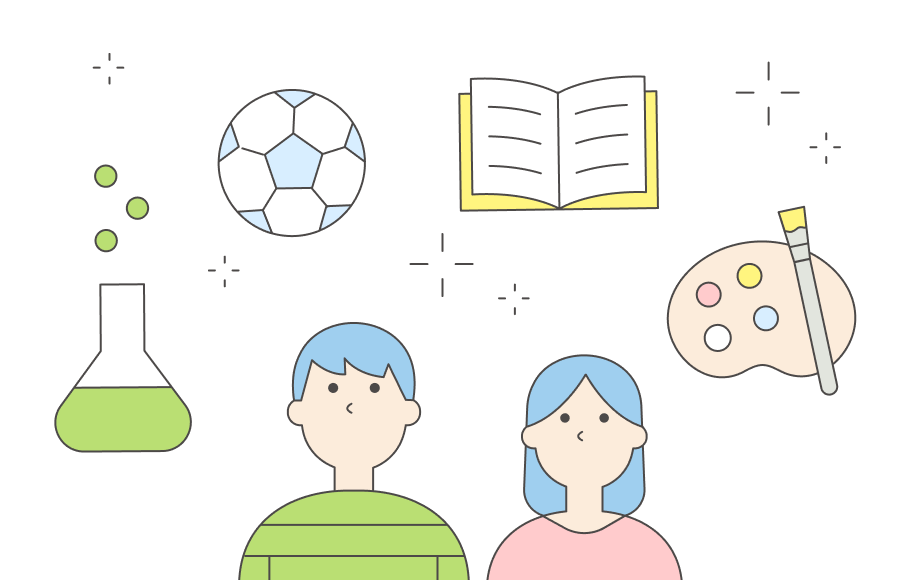 Many companies and
many jobs you can choose from
Shizuoka is known as a "Department Store of Industry" and various industries and companies cluster in this area. After your graduation, you can find a job that enables your expertise and live with us.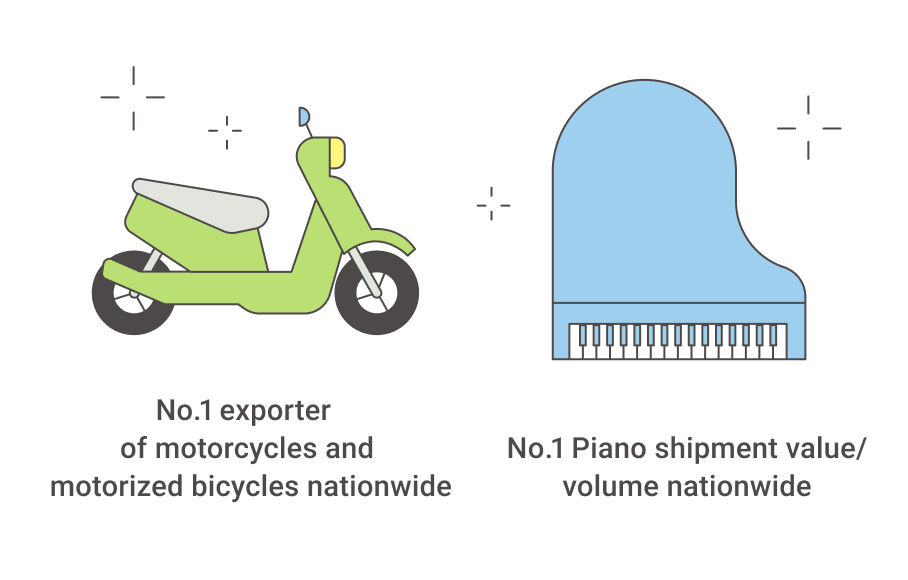 Budget-friendly living cost compared to the big cities
Compared to big cities such as Tokyo, Kyoto, and Osaka, the cost of living such as rent is relatively low in Shizuoka.
Consumer Price Index
Tokyo: 104.5 Kyoto: 101.1 Osaka: 99.8 Shizuoka: 98.4
(Source: Ministry of Internal Affairs and Communications Retail Price Survey (Structure Edition) 2021 Results)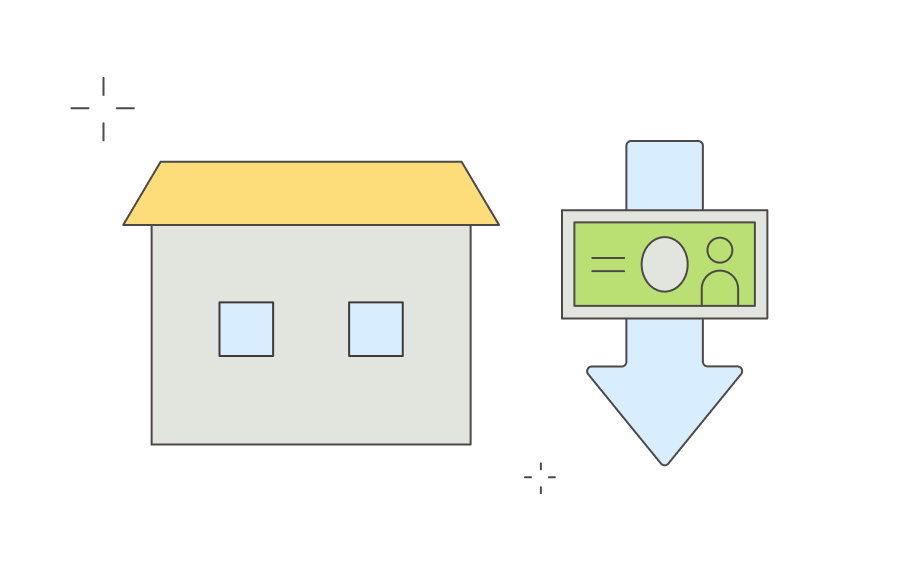 Disaster preparedness
for your safety
In Shizuoka, the percentage of people who have volunteered for their safe lives is the highest in Japan. The people of Shizuoka work together to create a safe living environment. We also have top-class earthquake prevention so you can live without worries.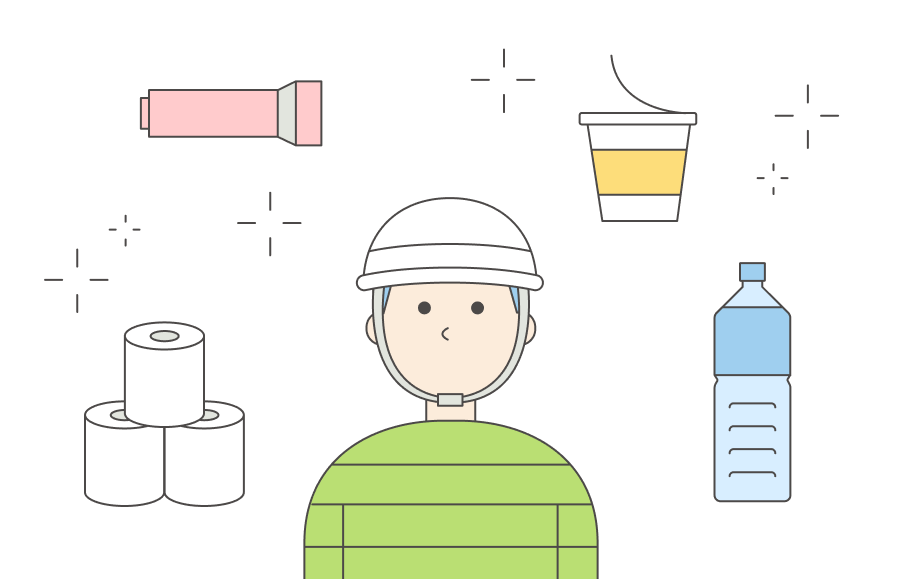 Easy access to the big cities
Shizuoka is located in the center of Japan, and is easily accessible by the Shinkansen and the Tomei Expressway. So, you can easily go to the city area or go on a trip to the countryside.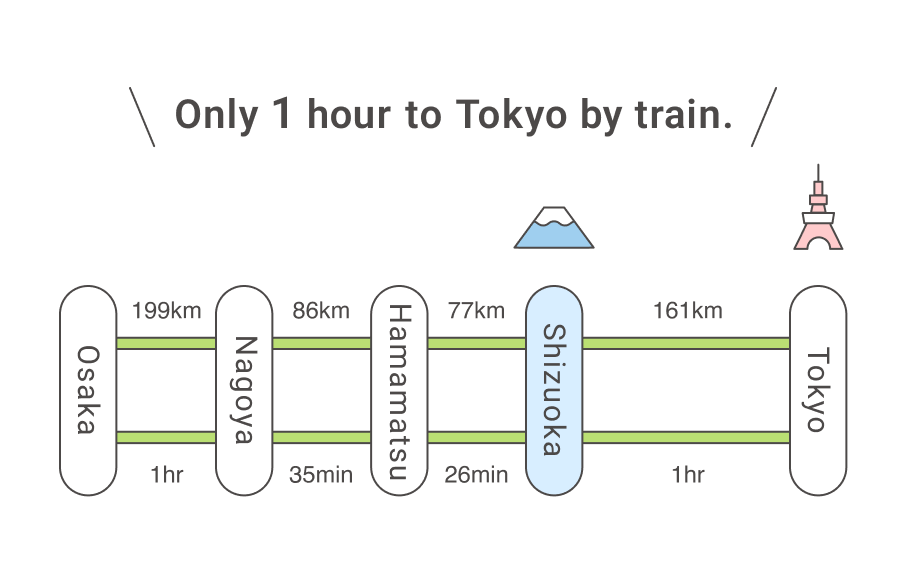 Enjoy the beautiful nature
Shizuoka has both oceans and mountains.
Suruga Bay, the deepest bay in Japan, 506 km long coastline, Mount Fuji, and the Southern Alps.
On holidays, you can enjoy activities in this beautiful nature and take a bath in one of the best hot springs in Japan.
We have 2021 accommodation facilities using hot springs, the largest number in Japan.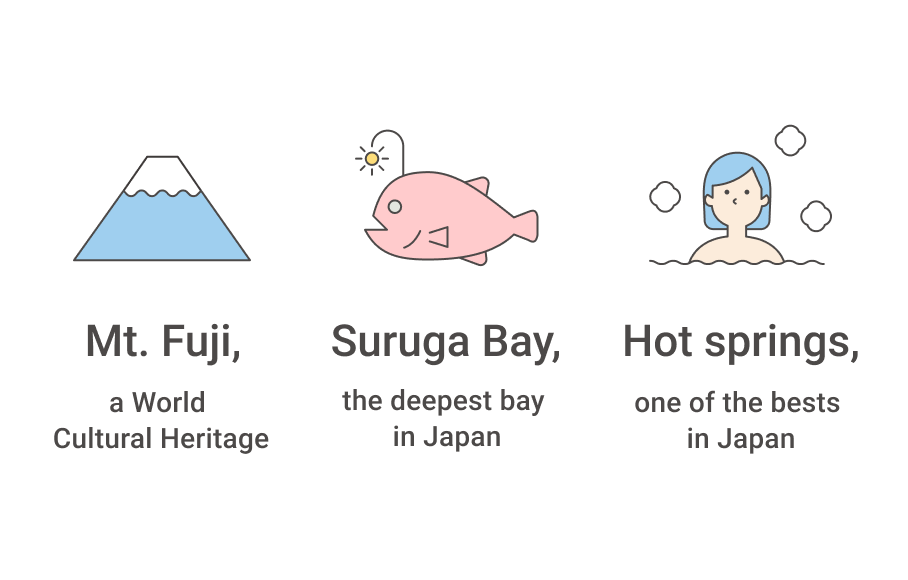 Warm and sunny weather
In Shizuoka, where mandarin oranges grow well, it almost never snows. Shizuoka has 64 sunny days a year, about twice as many as Tokyo, making it an attractive place to live comfortably.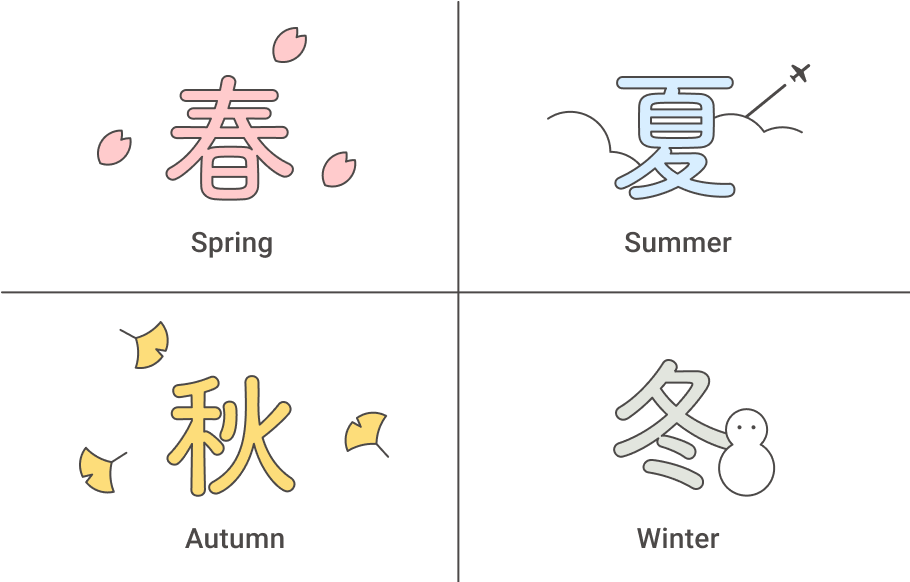 Enjoy a rich variety of food
from the ocean and mountains
Shizuoka is so rich in local vegetables, fruits, seafood, and other foodstuffs that it is also known as the Kingdom of Foodstuffs. We produce the largest number of products in Agriculture, Forestry, and Fisheries in Japan. We are also the nation's largest producer of tea and mandarin oranges.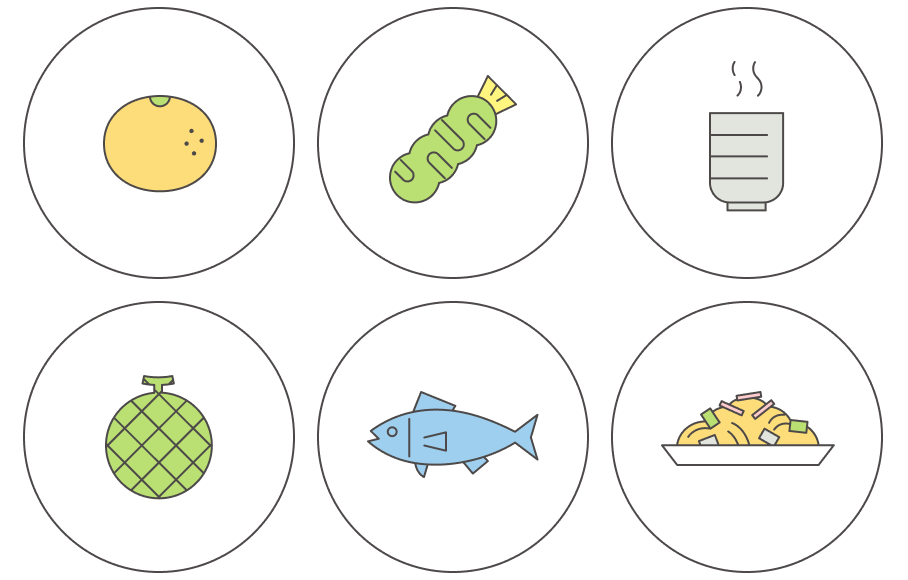 Experience both traditional and new cultures
The culture of manufacturing that has continued since the time of Ieyasu Tokugawa (founder of Edo era) has now been passed down to products such as plastic models and mini 4WD. There are many seasonal traditions and festivals handed down in the region, and visitors can experience them.
In addition, there are more museums, art galleries, and theaters per person than in Tokyo, giving people access to new cultural activities.
No. 1 Shipment value of plastic models in Japan (2019)
Number of art museums (per 100,000 people) Shizuoka: 1.35 Tokyo: 0.62
Number of theaters and music halls (per 100,000 people) Shizuoka: 1.49 Tokyo: 0.85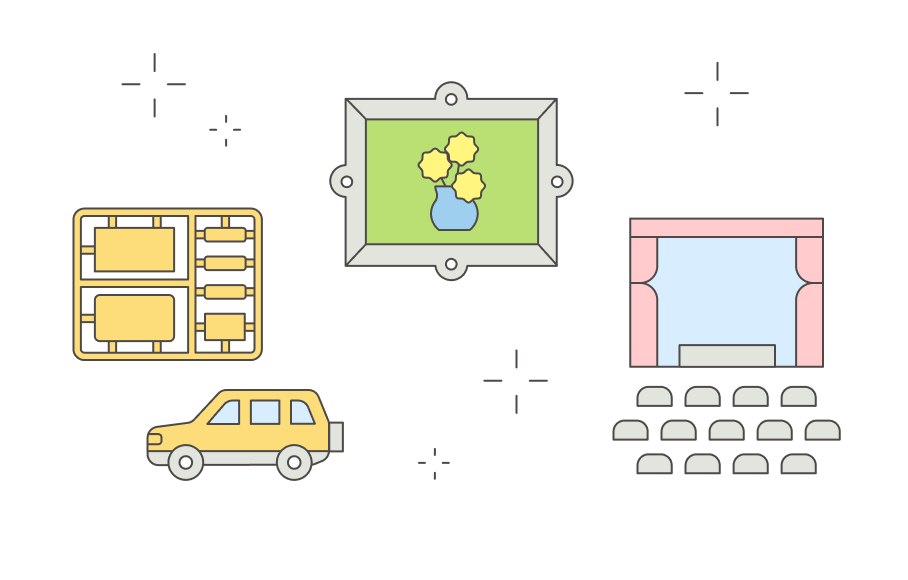 Friendly and warm
Shizuoka people
When we asked International Students what they liked about Shizuoka in a questionnaire, many of them answered, "The people in Shizuoka are friendly and warm." People in Shizuoka lead relaxed life surrounded by nature. We also welcome people of various cultures and religions. There are many people waiting to interact with you: school staff who will assist you in need, organizations that support your job hunt after graduation, and more! Come and be a member of a warm community!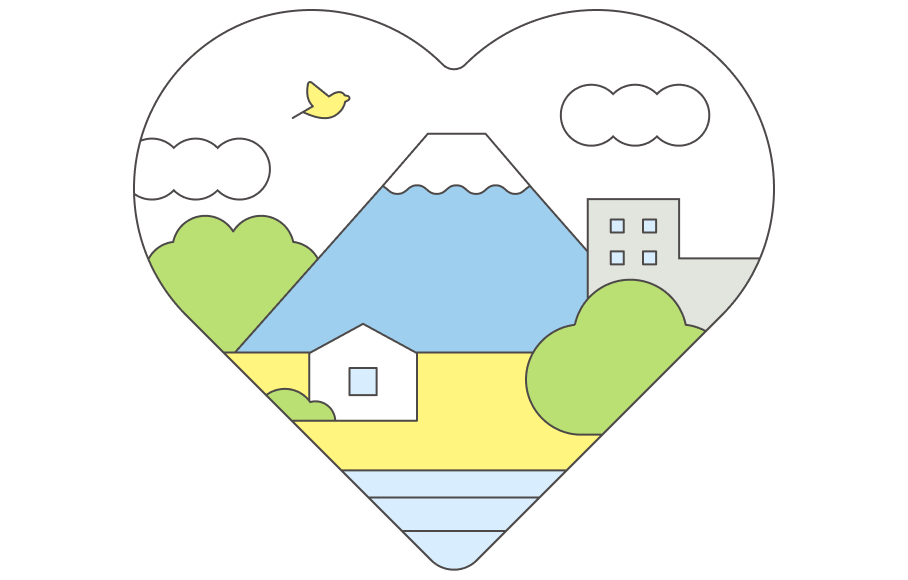 We asked for International Students!
"Why did you come to Shizuoka?"