Search for the Tuition Fee and
Scholarship opportunities Expenses・
Scholarship
Search for your costs of studying in Japan, and prepare the budget
Cost
How much do you need to budget?
You will need 2 types of budgets for "Pre-departure expenses" and "After arriving expenses"
Depending on the school, these payments may be required before your departure
Comparison of Living cost
Here is a comparison of living costs, Tokyo vs Shizuoka
In Shizuoka, you can live with relatively low expenses compared to the big cities like Tokyo or Osaka.
| | Shizuoka | Tokyo |
| --- | --- | --- |
| Home Ownership Rate | 67% | 45% |
| Average House Size | 102.02m² | 65.18m² |
| Rent per Month | 50,038 yen/month | 81,001 yen/month |
Expenses
Tuition
Approximate tuition fees for one year of University
Average tuition fees of Universities nationwide
Tuition fees for Private Universities are higher, please be aware.
Faculty of Medical, Dental, and Pharmacy not included.
In the first year, various expenses such as the Admission Fee are required separately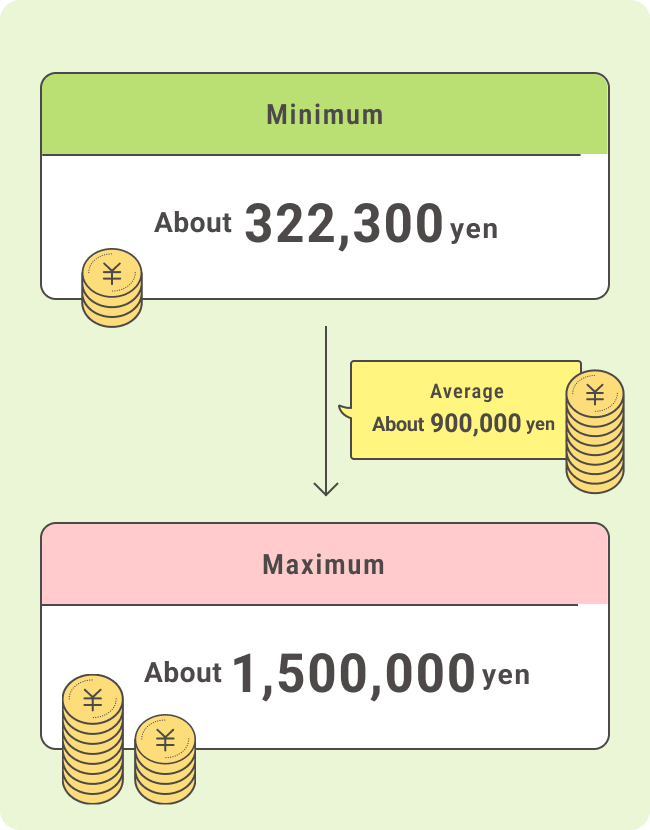 Scholorship
Scholarship opportunities
Types of scholarship
There are 4 types of scholarships that may be eligible for you
Scholarship from Japanese Government
Scholarship from Japan Student Sevices Organization
Scholaarship from Local Government or related association
Each school's own scholarships and tuition exemption system
Application period
Largely there are following two patterns for the scholarship application.
In your country
The whole process from applying and receiving the result ends in your country (rare case)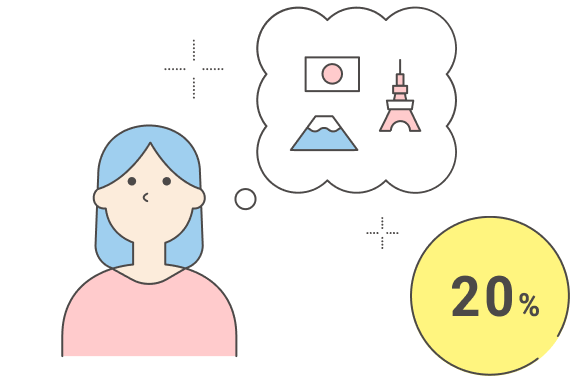 After coming to Japan
Some scholarships that accept applications from Japan may also accept applications from overseas.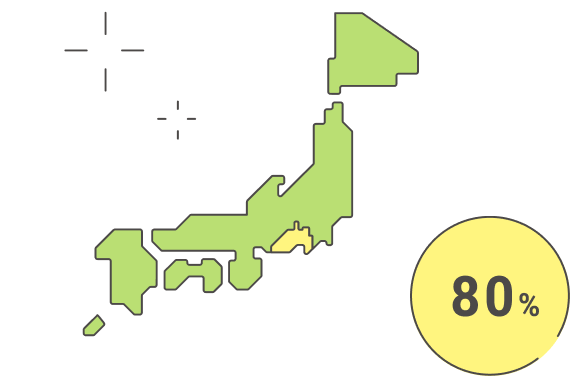 Documents required for the application depend on your school. Please ask your school for the details.
In most cases, scholarships are applied after your arrival.
How to apply for scholarship
Application method No.1
Apply for Government scholarship
MEXT Scholarship

MEXT Scholarships are funded by the Japanese government and are provided through Japanese embassies abroad or Universities in Japan.

Monbukagakusho Honors Scholarship

This is a scholarship program for privately-financed international students with financial difficulties. He/she is selected based on academic performance and personality.

Student Exchange Support Program

This scholarship is intended for students studying at overseas universities aiming to obtain a bachelor's degree, master's degree, or doctoral degree.
Application method No.2
Apply for local government or private scholarship
Inquiry for your future school or any organization
Start your application
for the scholarship
after entering school
Several to hundreds of people
are eligible for scholarships
every year
There may be designation
by the country of origin,
the school, or the field of study
Application method No.3
Apply for the school's own scholarship/ Use the tuition exemption system
Inquiry for your future school
Example of X University...

Tuition Exemption System

Students who have difficulty paying tuition due to financial reasons and who have excellent academic performance are eligible for this system

Example of Y Universiy...

82,000 yen monthly scholarship

Students with excellent performance in the entrance examination
List of the scholarships for University students
Department of Genetics, School of Life Science The Graduate University for Advanced Studies, SOKENDAI
Students, who have financial difficulties and an outstanding academic record, may be exempted from their registration and tuition fees. They have to apply for the exemption and pass screening.
Student support loan is also available at the Department of Genetics.
College of International Relations of Nihon University / Nihon University Junior College
In addition to the scholarship programs we have in place for foreign students such as the Nihon University 100th Anniversary Foreign Student Scholarship, we also have tuition exemption programs.
National Institute of Technology (KOSEN), Numazu College
At Present, we have international students who have received scholarship from the Japanese government, the Malaysian government and the Mongolian government.
University of Shizuoka / University of Shizuoka Junior College
We are offering our own scholarship starting in 2011 for international students. (12 students in 2021) The students can also receive JASSO scholarships (4 students in 2021) and scholarships offered by local companies every year. (14 students from 8 companies in 2021) Additionally, all or one half of the student's tuition fee can be covered by the scholarship system.
Shizuoka Eiwa Gakuin University / Shizuoka Eiwa Gakuin University Junior College
Students from abroad, experiencing financial difficulties, can apply for a reduction of their tuition fee. They can also apply for various scholarships from such organizations as Japan Student Services.
Tokoha University / Tokoha University Junior College
Tokoha University offers tuition reduction scholarship for the international students.
Students are also able to apply for scholarships from "Japan Student Services Organization (JASSO)" as well as from other scholarship programs from different foundations.
National University Corporation Shizuoka University
Major scholarships for international students are Japanese Government scholarship and Monbukagakusho Honors Scholarship for Privately Financed International Students.
In addition to them, many other scholarship programs are conducted by various organization. Applications may be filed via university or directly to them.
Shizuoka University also offers its own scholarship program, 40,000 yen per month, for selected students.
Shizuoka Sangyo University
The entrance fee for overseas students is reduced by 50% compared to Japanese students.
And the tuition fees are also reduced by 15%. In addition, various scholarships are awarded to overseas students by businesses or other organizations.
Shizuoka Institute of Science and Technology
Foreign students at SIST have a history of being supported in various ways through Ministry of Education, Science and Technology approved scholarships including from these organizations: Japan Student Services Organization(JASSO), the Heiwa Nakajima Foundation, the Rotary Yoneyama Memorial Foundation and the Enkei Foundation.
National University Corporation Hamamatsu University School of Medicine
The university provides its own scholarship, the International Exchange Scholarship (100,000 yen per month), under in-school review to support international doctoral students. We also help international students apply for external scholarships. Additionally, we have a tuition waiver application system for international students each semester. Applicants may be granted waivers that reflect their current financial situation.
Shizuoka University of Art and Culture
Any foundation scholarship are available upon application and have been provided to our students in the past.
Seirei Christopher University
Privately-funded international students who enroll at SCU for degrees can apply for SCU Tuition Waiver which offers up to a 50% tuition reduction. The amount of waiver will be determined by an applicant's home country, academic performance, and level of financial need. Also, there is a list of scholarships that international students can apply for through the university on the website.