How to live comfortably in Shizuoka
Life in
Shizuoka
What kind of things do you need to pay attention to
when living in Shizuoka?
Let's hear the advice from current students.
Weather
Climate in Shizuoka
Here in Shizuoka, we have a pleasant climate with four distinct seasons.
It's dry and sunny in winter and little snow on the plains.

The difference in the number of sunny days compared to Tokyo
The number of sunny days in Shizuoka is about twice that of Tokyo. You can enjoy the comfortable weather here.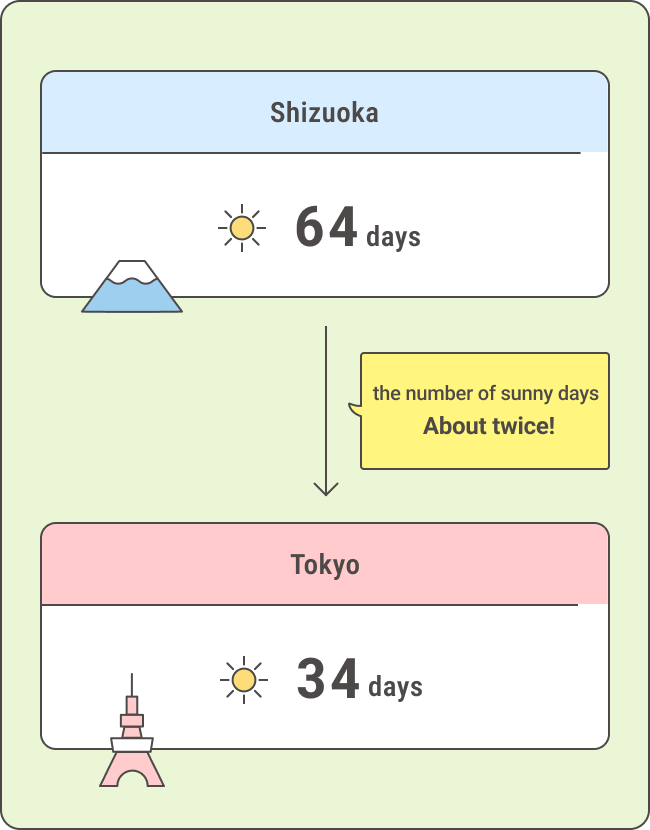 What should I wear in Shizuoka?
Spring
Long sleeved shirt
T-shirt
Pants
Sneakers
Summer
T-shirt
Short pants
Sandals
Autumn
Long sleeved
collared shirt
T-shirt
Pants
Sneakers
Winter
Manners in Japan
Japanese manners and customs you should know
Bowing
Bowing with your head down is a common Japanese custom. For example, bow your head when greeting or expressing gratitude or an apology.
Taking off your shoes at the home entrance
In Japan, you need to take off your shoes at the entrance before entering a house. Also, it is good manners to put your shoes together when you take them off.
Keeping quiet in public places
As a Japanese good manner, you should keep quiet in public areas such as parks, libraries, restaurants, streets, buses, and trains
No tipping culture
In Japan, there is no tipping culture. Everything is included in the price of the meal, so you don't need to leave tips at the restaurant.
Sorting your garbage correctly
In Japan, you have to sort your garbage properly based on the materials, recyclable or any other rules, etc. It is a basic manner to separate burnable garbage, unburnable garbage, PET bottles, and cans.
No Leaving Food
In Japan, not leaving your meals is considered to be polite manner. Completing a meal is an act of expressing gratitude to the person who prepared the food or meal.
About Transportation
Trafic Rules
Bicycle
You can cycle around Shizuoka. Courses with a view of Mt. Fuji are popular.
Bicycles can be purchased at bicycle shops, online shops, and supermarkets.
In addition, there are many bicycle parking lots at the stations.
Safety guidelines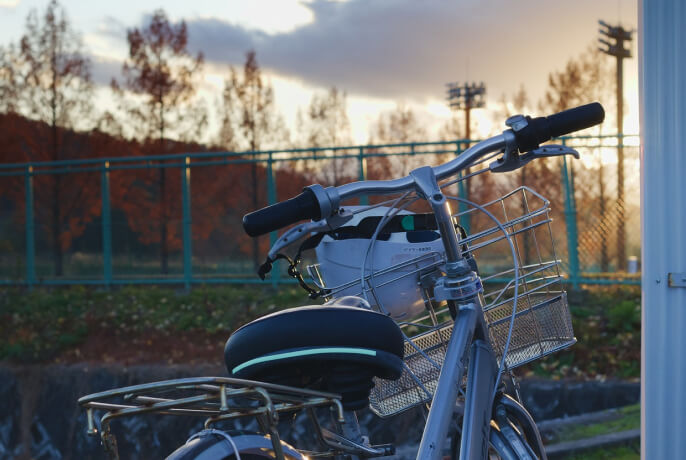 As a rule, driveways are on the left side of the road.
Pedestrians have priority on sidewalks.
At intersections, obey traffic signals and stop signs,
and check for safety.
Turn on lights at night
No drunk riding
Wear a helmet when you ride
Get insured in case of a bicycle accident.
Train
Japanese trains run on a minute-by-minute timetable, which comes in handy for commuting.
However, you may have difficulty in big cities like Tokyo or Osaka where there are many train lines.
Research ahead before you travel.
How to buy tickets
Purchase from a ticket machine
Japanese train tickets are made of paper and are inserted into the ticket gate before and after boarding.
If you wish to purchase a ticket, use the ticket vending machine at the station.
Use IC cards
You can charge money to the IC card and go through the ticket gate by touch.
The card can be purchased from a ticket machine and issued on the spot.
IC cards are more convenient than paper tickets and can also be used for payment at convenience stores.
Public Bus
Buses are handy measures of transportation to places that cannot be reached by train.
Overnight buses are also a budget-friendly way to go on trips and other excursions.
How to ride a public bus
When the bus arrives at the bus stop, board from the rear entrance (in most cases).
To get off, press the get off button near your seat to let them know, put money or coupons in the fare box next to the driver's seat, and get off at the front of the train. There may be differences due to area.
Cab / Taxi
Cabs are more expensive than trains and buses, but they are more convenient.
Cabs increasingly accept credit cards and electronic payment methods.
Insurance
About Insurance
National Health Insurance: Reduce the burden of medical expenses
This insurance system is designed to reduce the burden of medical expenses.
Foreign nationals who stay in Japan for more than three months must enroll in the "National Health Insurance" system.
If you have National Health Insurance, 70% of the cost of treatment for injury or illness will be covered by the insurance.
You only pay 30%. But those treatments not covered by the insurance need to be paid in full.
If you are enrolled in the National Health Insurance system and your monthly medical expenses are high, you can receive reimbursement for the amount exceeding the maximum co-payment amount as high-cost medical care expenses. In addition, if you are hospitalized, you can apply for and obtain a certificate of maximum amount application in advance to reduce the amount you pay at the hospital counter to the maximum amount.
How to enroll
in National Health Insurance
After registering as a resident at the municipal office of the city, ward, town, or village, you apply for National Health Insurance.
Insurance Premium
Insurance premiums are calculated based on income (e.g., part-time work) during the previous year.
Be sure to declare your income at the municipal office.
Reduction of premiums
Premiums are reduced if the previous year's income is below a certain threshold.
To be eligible for the reduction, income must be declared.
Property insurance and Mutual Aid to insure against accidents
Accident insurance and personal liability insurance are also available for International Students to purchase to compensate for accidents and other incidents.
Examples of coverage
Running into a pedestrian with a bicycle and injuring. Need to pay for his medical expenses.
Dirtying the walls and need to replace the wallpaper.
Cell phone was stolen from my room.
Various insurances
Personal Accident Insurance for Students pursuing education and research (Gakkensai)
This insurance is adopted by the majority of Japanese schools (universities, graduate schools, junior colleges, and technical colleges) and covers injuries sustained during classes, commuting to and from school, etc. There is also an insurance called "Inbound futai-gakuso" which provides enhanced coverage. These insurance policies are provided by the Japan Educational Exchanges and Services.
Some schools are not eligible for this insurance, so please check with your school.
Comprehensive Student Mutual Insurance
This is a University Co-op coverage program that you may be eligible to join while attending university.
Mobile
Mobile Phone
Contracts
Required Documents
The following are the basic documents required for a cell phone contract for foreign residents.
The required documents will vary depending on the carrier, payment method, etc. Please check with your preferred carrier to make sure you are prepared.
Please note that for the three major Japanese carriers (docomo, au, and Softbank),
you will also need to bring a bankbook or cash card for the account where you pay your monthly bill.
Examples of Required Documents
Identification documents such as residence card, special permanent resident certificate, health insurance card, passport, driver's license (except international driver's license), etc.
Please note that one item may not be sufficient if the address has not been changed or if there is no photo of the applicant.
Cash card or bankbook
Seal
Credit card (If you do not make account transfers)
The cost of the mobile phone (in case of installment payment, it will be charged in the following month).
Dedicated customer service for foreigners by each telecommunications carrier
Multilingual dialing for major carriers.
docomo
Languages

English, Portuguese, Chinese, Spanish

Office Hours

9:00 AM~ 8:00 PM
au
Languages

English, Korean, Chinese, Portuguese

Office Hours

9:00 AM~8:00 PM
Softbank
Press dial 8 during voice guidance for English support.
Office Hours

9:00 AM~8:00 PM
Money
How to Withdraw and Transfer Money
Money Withdrawals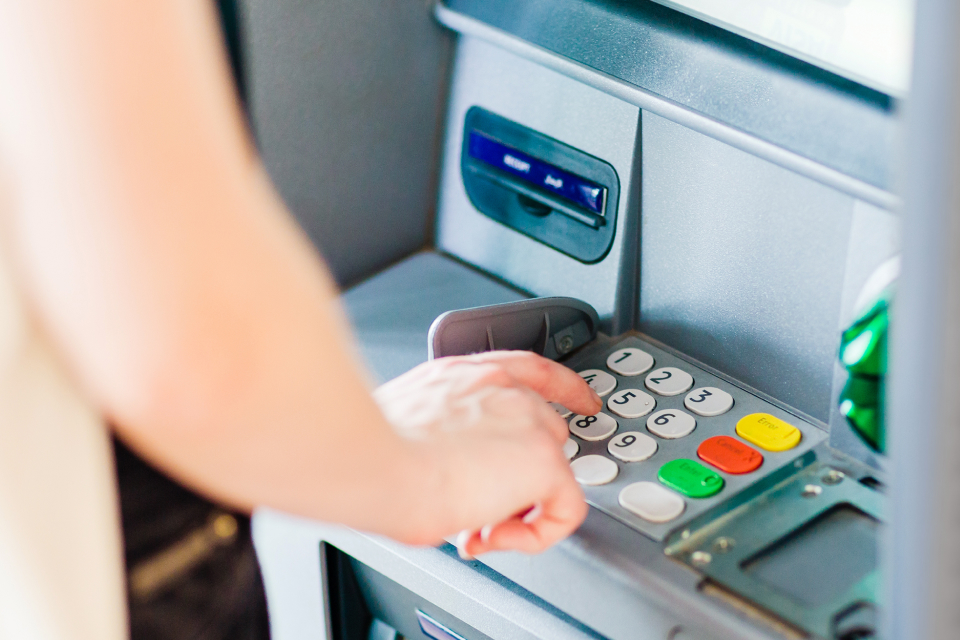 You can deposit and withdraw money at ATMs equipped in convenience stores and other locations.
A PIN (4-digit number) set on the occasion of account opening is required to use this service.
ATM hours vary from the bank or post office you use, so we recommend you to check the operating hours for the account you opened.
If your credit card is marked VISA, Plus, MasterCard, Cirrus, or UnionPay, you may be able to withdraw money at an ATM.
How to transfer your money internationally
Remittance via Bank

The bank will process the remittance
based on the following information.

Bank name and branch name of the account
to which the money is to be transferred
Type of account
Account number
Address
Name
Telephone number

Remittance
via Postal Office

International Postal Money Order

Choose how your recipient gets your money

Send a money order by airmail to the recipient's address. In exchange for the money order, the recipient will pick up the cash at the post office in his/her country.
Directly to a postal account of the recipient. In this case, you pay the money into the recipient's postal transfer account. The transaction fee is cheaper than the 1 above.

International Postal Money Transfer

This service is available only when both the sender and receiver have a postal transfer account. Some countries do not allow money transfers with this method. Also, please note that the delivery time differs depending on the country.